Durham School Dubai children designed a playful likeness of their Principal Mark Atkins for a scarecrow competition at the school's Harvest Festival this Thursday.
Celebrating the harvest, donating produce to those in need, and marking the autumnal season with community events happens the world over, but is an especially popular initiative in the UK, where Durham School Dubai's historic home school is based.
While Harvest Festivals rarely ever appear on the calendar of international schools in the UAE, Durham School Dubai Principal Mark Atkins says that it's important to them as a branch school to provide an authentic experience for children that is as close as possible to that which they would get in the UK:
"Durham school has branch school status. This means that the school in terms of educational offering, management and ethos should be true to the home school."

"From the very beginning, Durham school has taken this very seriously and I am determined that Durham School Dubai will be an authentic experience –as close to a high-quality British independent education as it is possible to be.

"Harvest is a lovely event in the UK calendar curriculum and something I think a lot of Dubai children and their families miss out on."

"My ambition for the school is to be a campus of Durham School UK that happens to be in Dubai."
Scarecrow spectacular
A key part of Durham School Dubai's Harvest Festival was a 'Scare The Crow' competition. Children and their families were invited to use their imagination and ingenuity to fashion a scarecrow for a chance to be declared winner.
These creative 'straw men' have a long and meaningful history in Durham School's native England; as the school explained in a letter to parents:
"Scare the Crows are a traditional aid in ensuring a healthy and bountiful crop."

"They keep the birds away from the seeds and they literally scare the crows."

"However, they themselves need not be scary."

"They can be, and usually are, quite jolly."

"They can be based on a historical figure, a fictional character, or anything you like."
Every class designed their own scarecrow, and parents and children were also invited to enter their own creations.
A stand-out entry was the playful likeness of Principal Mark Atkins himself – a clear sign of the children's affection for their school leader, as well as his sense of humour.
There were also and array of colourful, wacky, imaginative and fun designs – from a fantastic rendition of the Julia Donaldson's famous fictional characters in the book The Scarecrow Wedding, to a 'Shapes scarecrow' used as a teaching aid for FS children, a Viking scarecrow, snowman scarecrow, a smattering of spooky scarecrows, a Minnie and Mickey Mouse scarecrow, and even a 'Durham Student' scarecrow – complete with a copy of the school's core values of Moral Integrity, Ambition, Responsibility and Kindness.
The winning Scare the Crows however was a beautifully whimsical, straw-skirted and floral-decorated creation, which seemed to take inspiration from the Polynesian style of Moana, as well as the very Harvest-appropriate fruit-faced portraits of Renaissance artist Giuseppe Arcimboldo.
Mark Atkins, Headmaster of Durham School Dubai, told SchoolsCompared:
"The winning scarecrow was very imaginative and conjured images of an Hawaiian dancer. It was made by the Fenner family and the staff voted on the one they thought was the best. A big well done!

Lots of other great scarecrows were produced and, in truth, it is hard to single out any – the imagination, creativity and passion brought to the project by everyone was so impressive. This said, I did really like the scarecrows that were made by FS1 and FS2 on the theme of the scarecrow wedding, a book our teachers had been enjoying with the children in the lead up to harvest.

It was lovely to see so many families joining in to make scarecrows as a part of our harvest celebration. It was surprising how many children were not aware of what a scarecrow is and how many families did not understand the history behind bringing in harvest baskets for distribution to the needy.

The response was fabulous and all of our harvest goodies went to the mosque next door to be distributed to those in the immediate community most in need."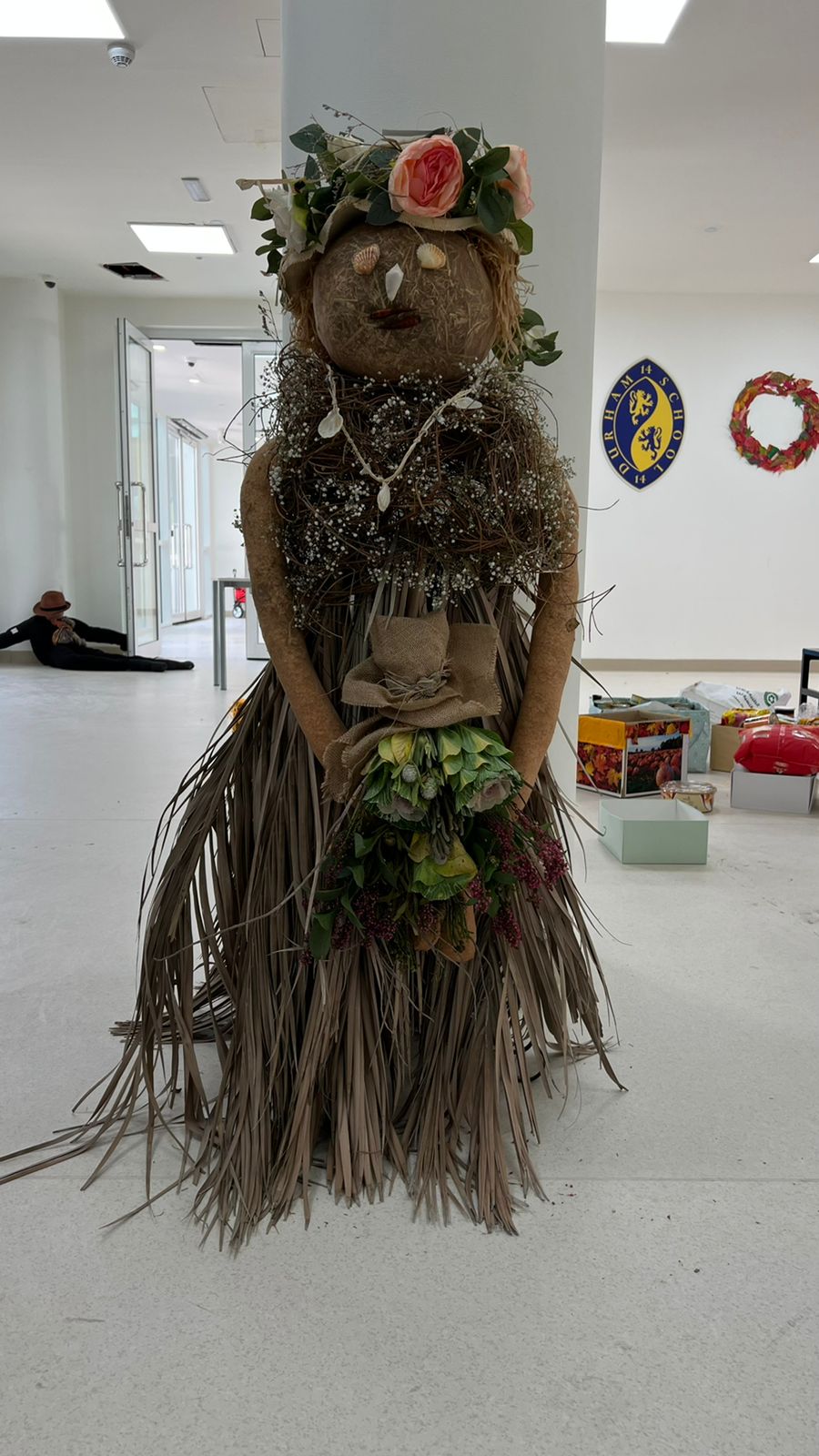 Serving the community
A core component of Harvest Festivals in the UK is a ceremony of thanksgiving for the food that the land produces, and a chance for people to give donations of their harvest bounty to those in the community who need it.
At Durham School Dubai there was a Harvest Day assembly in which the children sang autumnal songs, while families were invited to donate a box of food, which was then given to the local mosque in DIP to be distributed amongst those in need.
The hall was decorated with beautiful harvest-inspired artwork as well as the scarecrows, and parents were also invited to join in the festivities – to watch their children perform and to celebrate and give thanks as a community.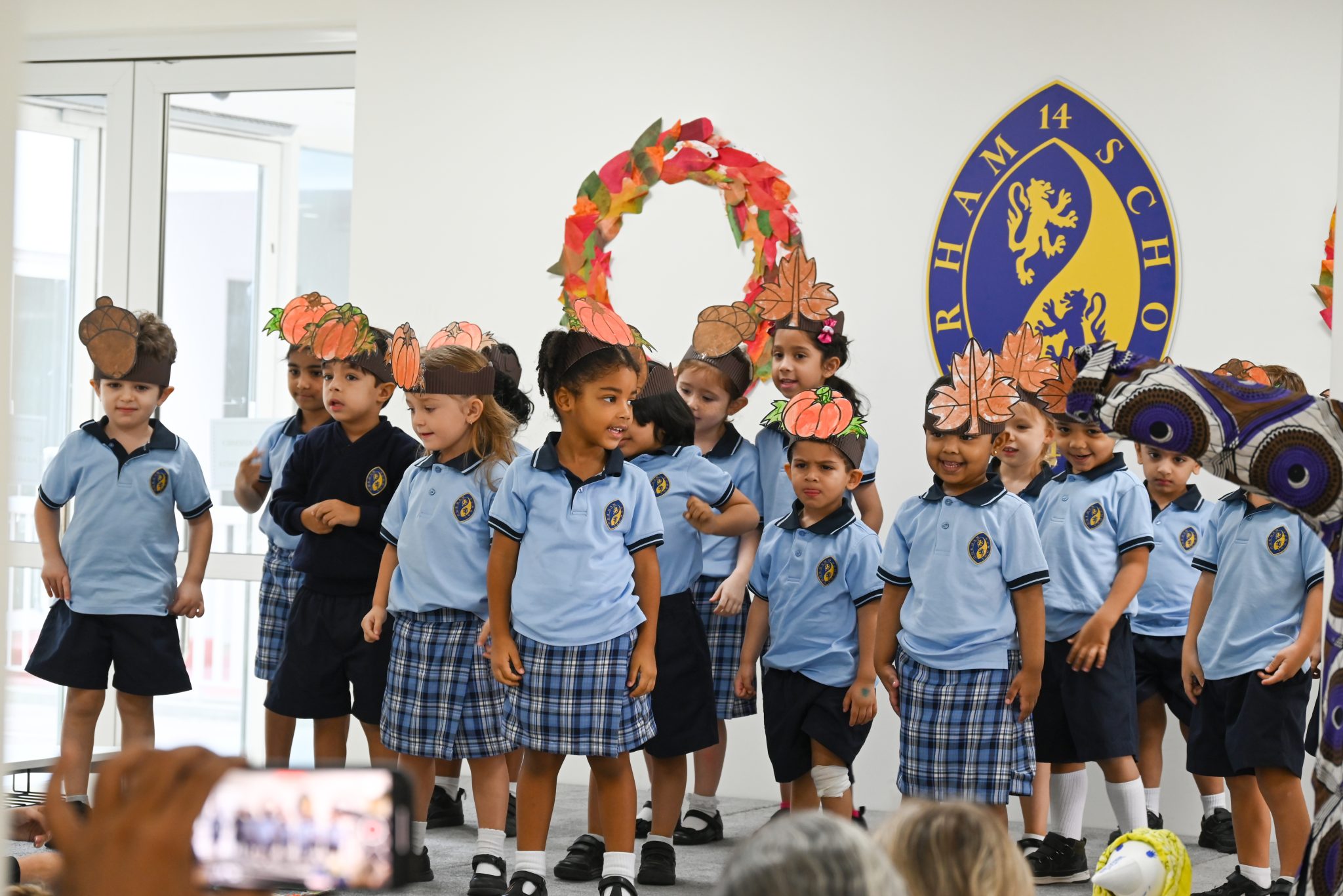 Durham School Dubai Harvest Festival: In Pictures
Here's a selection of pictures of the Durham School Dubai Harvest Festival and scarecrow competition…