Which School Advisor – 15 March 2023
Durham School Dubai, which opened in August 2022 in Dubai Investments Park, adjacent to the Green Community, is the third international school to be operated directly by UK-based Durham School.
Entering Durham School Dubai
Visited on: 15/03/23
Our reviewer arrived at Durham School Dubai early on a Wednesday morning, shortly before pupils arrived, between 7:15am – 7:45am. Traffic at morning drop off time appeared to be relatively smooth and stress-free for parents (the school is new and has under 200 pupils enrolled), although the surrounding roads in DIP are certainly not quiet in general.
Principal Mr Mark Atkins and Head Teacher Ms Charis Wightman were greeting pupils and parents as they arrived at the school entrance (something they make themselves available for almost every morning). While Durham Dubai promotes a traditional British approach, its leaders did not come across as the stiff-upper-lip variety, but instead appeared to balance a sense of authority with warmth and familiarity very well. Parents arrived with their children, exchanging smiles and humor as they entered, with individual attention paid to each.
Unusually, Mr Atkins was not in his formal attire, as he was set to take pupils from Years 5 to 8 on a two-day adventure-filled hiking and camping trip to learn survival skills. Pupils arrived, kitted out with hiking boots and rucksacks, clearly excited about the trip, while Mr Atkins expressed similar feelings himself.
Leadership
Principal Mr Mark Atkins and Head Teacher, Ms Charis Wightman, are an exceedingly experienced pair, having led and launched well-known British schools in Dubai prior to Durham, as well as teaching in and leading schools in the UK. Their approach and vision for the Durham School Dubai appears to be very much aligned, with a focus on building a school that instills good manners, respect, and academic rigor.
In addition to his leadership responsibilities, Mr Aktins teaches Geography, and appears to be a favourite teacher of many pupils. According to staff, he can often be seen getting 'stuck-in', supporting at every level, and even serving in the school canteen if needed. This is not a principal who hides in an office, his presence is felt and appreciated. He and Ms Wightman appear to have a detailed awareness of what is going on, and how staff, parents and pupils are feeling.
Ms Wightman comes across as an energetic and highly motivated Head Teacher. Her passion for the school and what it offers is evident in even the briefest interactions with her. While the traditional British feel of Durham School Dubai is definitely not to every family's taste, Ms Wightman is, quite admirably, confident and unwavering in the school's approach, of sharp school uniforms, impeccable manners, and a firm focus on mastery of 'the fundamentals' such as arithmetic and handwriting. This tough sounding approach is, however, combined with warmth and kindness from Ms Wightman, and from the team at Durham in general.
Tour
The location of Durham School Dubai, within close proximity of buildings of a more industrial appearance, means this freshly renovated, sparkling white school campus really stands out. Additionally, the school is going to great efforts to develop outdoor green areas, adding to its aesthetics.
Internally, the campus has been renovated to a high standard (it was previously used by another school but is now almost unrecognisable). Spaces have been redesigned and refurbished, in line with the school's approach.
Our reviewer enjoyed a school tour with Head Teacher, Ms Charis Wightman. Early Years classrooms and, currently, most of the primary classrooms, are situated in a circle, each looking into (and with direct access to) an attractive outdoor playground designed for the younger year groups. This arrangement allows for each of the classrooms to have natural light coming in. Our reviewer noted that the school's FS1 and FS2 classes are currently quite small in terms of pupil numbers, with these young pupils receiving an exceptional level of individual attention from highly experienced UK trained teachers. Children appeared engaged and content.
Ms Wightman explained that Foundation Stage classes at Durham, while having a play-based element, do include significant amounts of teacher led activities, including daily focused phonics sessions, using the Little Wandle Letters and Sounds synthetic phonics programme. The early years teachers here clearly have extensive experience and knowledge in this area. In terms of environment, this section of the school comes across, in some respects, as a 'work-in-progress', and would benefit from a more varied range of materials and equipment to support developmentally appropriate hands-on learning, both indoors and outdoors.
Primary classrooms have a simple set up and are adequately spacious; they will certainly not feel crowded with impressive maximum class sizes of 20 pupils. Classrooms are un-cluttered with calming colour schemes.
During our school tour, primary pupils were enjoying their break time in the school's outdoor spaces. Our reviewer observed that, unusually, children were independently choosing to participate structured sports activities, with very few simply "hanging around", as might be expected. This may be as a result of the school's strong sports offering and inspiring P.E. department, although it is also worth nothing that outdoor play and break areas could perhaps benefit from some development, as highlighted by pupils in our Student Panel.
A stand-out area in the school is its spacious and comfortable library, which will likely lend itself well to independent study, as well as simply nurturing a love of reading. As is expected in a school of this level, Durham School Dubai has a large indoor swimming pool, a multi-purpose sports hall, an auditorium and specialist art, science and IT labs.
Inside the Classrooms
We were provided with the opportunity to visit several classrooms, including a Year 2 class and a Year 6 Arabic Class.
The approach to teaching and learning our reviewer observed was definitely on the traditional side, as promised, leaning much more in the direction of teacher-led than pupil-led learning, with a sense of uniformity within classrooms. Year 2 pupils were quietly handwriting in worksheets, while the class teacher provided individual support to students where required. Pupils were able to explain what they were doing, and proudly showed their written work to our reviewer.
Our reviewer also sat in on a Year 6 Arabic B lesson with Head of Arabic (and Assistant Head Teacher), Mr Wael Shokr. Having heard from pupils of their enthusiasm for Mr Shokr's classes, our reviewer was interested to observe him in action. Mr Shokr explained that he aims to ensure students can see the real-world application of what they learn in Arabic, and so his classes often include opportunities for role play and theatrics, which help to reinforce what they have learned. A more structured part of a lesson was taking place during our visit to the classroom, in which Mr Shokr's balance of firmness and sense of fun was evident. Our reviewer was greatly impressed by the remarkable ability level and engagement from pupils, some of whom had not studied the language prior to joining the school this year.
Meeting the Students
Our student panel was made up of five pupils from Year 3 to Year 8, all of whom had all moved to Durham School Dubai from other Dubai schools. The group, as a whole, came across as being very sincere and thoughtful, sharing their experiences openly, and demonstrating compassion and understanding towards one another.
Our panel expressed considerable positivity when talking about their teachers, making particular reference to how well they feel their teachers know them as individuals. Pupils expressed particular enthusiasm and affection for P.E. teacher, Mrs Tuck, Year 6 Teacher, Ms Sullivan, and for Head of Arabic, Mr Shokr.
With regards to discipline, pupils described their teachers as firm but kind, they appeared to have a very clear understanding of what was expected of them in terms of behaviour, referencing kindness and respect.
When asked about whether they felt the academic expectations placed on them at the school, pupils told us that although the level may be the same or higher than they experienced in their old schools, it felt easier for them due to the way their teachers explained key concepts to them. None of our pupils felt that schoolwork was ever too challenging or too easy for them.
Several of the pupils spoke enthusiastically about the school's sports offering, with one Year 8 pupil, who had moved to Durham from an American curriculum school, remarking that she was surprised to be enjoying cricket and rugby at Durham, having not been at all familiar with these sports prior to joining the school.
When asked what they would change about the school, our panel said they would not change any major elements of the school, but would like to have more play equipment and facilities for break times.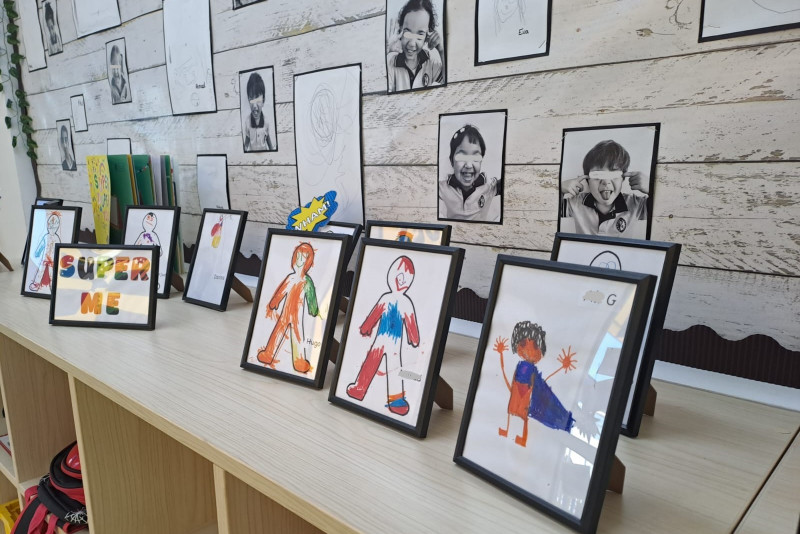 Meeting the Parents
Observing morning arrivals at Durham allowed us to see how parents interact with staff at the school. There was a feeling of joviality, with plenty of friendly humour and smiles between Principal Mark Atkins, Head Teacher Charis Wightman, and parents as children were dropped off at school.
We had the opportunity to meet with a panel of three parents to learn about their experiences and views of Durham School Dubai. There was a clear common theme in what these parents shared with us, of appreciating the feeling of warmth and community in the school. The school's leadership team were praised highly for creating this, as well as individual class teachers.
One parent shared:
"It feels very supportive here. It's very 'family', a very homely feel. The school emphasises kindness before everything else. Alongside this though, there are still high academic standards. In this sense, I feel like we are in a school that has been in place for a long time."
Another parent was eager to share his family's experience, as non-native English speakers:
"We came from Brazil, and our children only had a very basic understanding of English. I can vouch for how much their English has improved, I see their progress in such a short time period, in their language skills and their confidence."
Our parent panel unanimously expressed high levels of satisfaction. When asked what they would like to see added to the school's offering as it grows, they listed the development of competitive sports teams, as well as specialist art and music teachers. We understand that specialist teachers are to be hired for the coming year, and that sports is very much a focus for the school.
Meeting the Teachers
We met with Mrs Jo Tuck, a P.E. Teacher with more than 18 years of teaching experience, and Ms Hayley Peace, an FS1 teacher with 14 years of experience. Both Mrs Tuck and Ms Peace had relocated from the UK to join the founding team at Durham School Dubai, and spoke enthusiastically about the experience of developing the school from its first days.
Speaking about the school cultural at Durham Dubai, Mrs Tuck said:
"It's really positive, very jolly. It's very British in some ways, but we've also got all these different nationalities and celebrate that diversity. We feel very lucky, we started off so small, in terms of both staffing and students, and we've come together and it has really worked, we've become each other's family."
Mrs Tuck and Ms Peace spoke with great admiration and affection for Principal Mr Mark Atkins, and Head Teacher, Ms Charis Wightman.
Ms Peace shared:
"I've worked in schools in the past where the team isn't quite sure of the direction, or the vision. We know exactly what we're trying to achieve, and we feel driven. They [Mr Atkins and Ms Wightman] are very experienced, they've done this before. They see where the gaps are and steer those improvements."
She continued:
"In some schools, the higher you get up the ladder the less time you have for the smaller issues, but at Durham, you could go into the canteen and find Mark [Atkins] serving food to help out. He's such a team player."
Ms Peace and Mrs Tuck agreed that they look forward to the school growing next year, with the teaching team due to more than double, and likewise for student numbers to increase.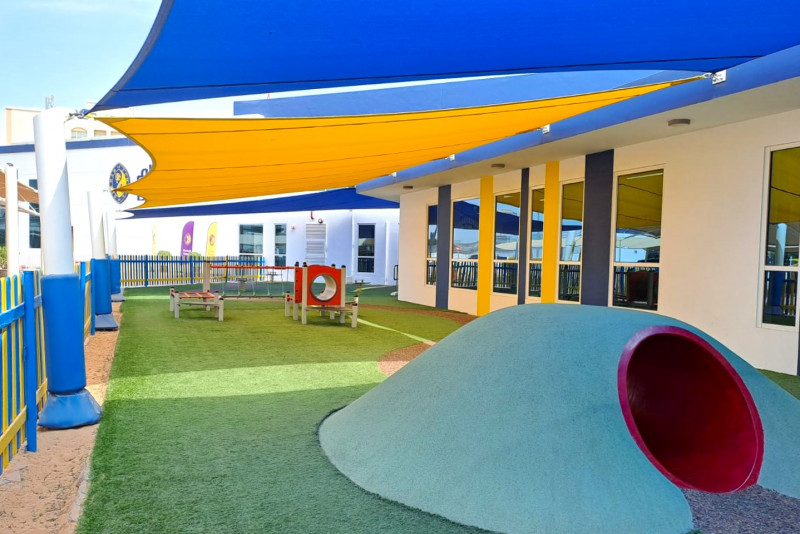 Our View
In the respects that perhaps matter most, dedicated and experienced teachers, happy and engaged pupils, invested and satisfied parents, Durham School Dubai appears to have gotten off to a good start. Its interesting choice of location has perhaps held it back to an extent in terms of growth in its first year, but word will likely spread of its committed and positive team of teachers. Its traditional approach and quintessential British feel gives it its USP, and, for those seeking this style of education, it does stand out in contrast to the many schools that vaguely profess a more progressive approach.
As Principal Mark Atkins previously told WhichSchooladvisor.com, "the biggest, single most important thing that we have at Durham is quality teachers. That to me is everything." Indeed, Durham's strength is definitely in its people, with an exceptionally strong founding team in place. Facilities, while not lacking, do not stand out as exceptional in the wider Dubai education landscape, but the warmth, traditional focus, and very human strength of the school shines through.